The origin of Laxmi Tailors stretches back over six decades, when our founder M. N. Advani moved to Indonesia in 1947. He started off selling from a modest kiosk in South Jakarta, and by 1949, he and his son G. M. Advani opened the first Laxmi Tailors shop in Pecenongan, where the flagship store still stands today. G. M.'s son, Bharat, joined the business in 1996, to continue the legacy of his family.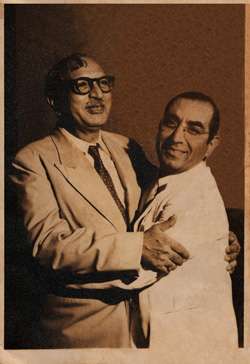 Laxmi Tailors was founded in 1949 by M. N. Advani with the pursuit of crafting the finest tailored garments in Jakarta. His good eye for fashion coupled with a strong entrepreneurial vision built Laxmi Tailors into the successful business it is today. Before the era of ready-to-wear clothing stores in Jakarta, Laxmi Tailors was one of the only tailors to be stylishly dressing an impressive client portfolio that included the presidential palace, government officials and diplomats. Now, three generations and over six decades later, Laxmi Tailors remains one of the best traditional clothiers in Jakarta, making luxury tailored clothing for our customers.
With over 70 years of experience, meticulous attention to detail, and unparalleled customer service under our belt, we have garnered a fine reputation for the superb quality and fit of our bespoke creations. Our loyal clientele always trusts that they are in good hands whether they are commissioning a formal dinner jacket or perfectly fitted work suit. We look forward to welcoming you.